Brisket is a really great piece of meat. Preparing and eating it is really great. Especially, if you have a high-quality brisket. You have eaten brisket, and there were some leftovers.
How do you reheat brisket perfectly, and how do you make sure that it isn't ending up dry?
It is really important to make sure that you are reheating your brisket in order to have another enjoyable meal when eating the brisket on another day.
However, you should also make sure that you are freezing it correctly, in order to be able to reheat it correctly again. This is everything you need to know about reheating brisket to ensure that it stays moist and delicious.
To Slice the Brisket Before Freezing or Not?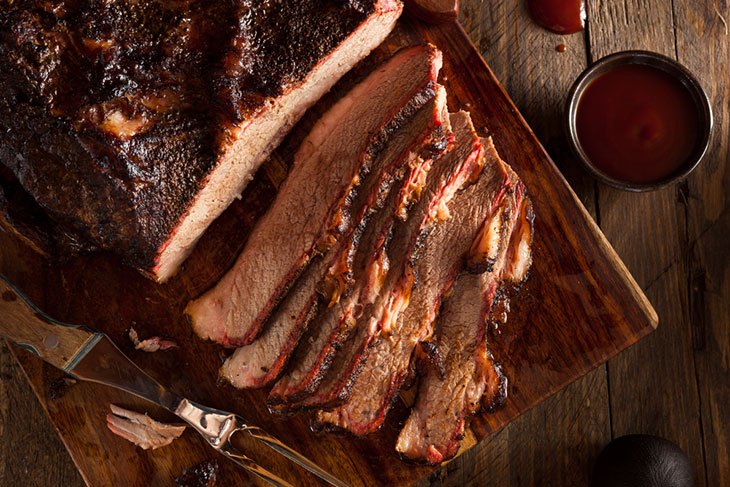 This is a serious question that you should know the answer before you decide if you should slice your brisket before freezing or not.
If you slice the brisket, you might be saving on space in the freezer. It depends on the amount of left-over that you have. The other thing to consider is that it is easier to reheat the brisket if it is sliced.
However, when you slice it before freezing, you are going to lose most of the moisture. Going to have dried out brisket left-overs.
It is important that you consider the pros and cons before you decide if you are going to slice the left-over brisket or not.
Storing and Freezing the Brisket Correctly
Storing your left-over brisket is just as important as the reheating method. If you don't freeze it correctly, you have a big chance of ending up with dry and tasteless leftovers.
The most recommended thing to do is to use your vacuum sealer to vacuum your brisket before you are storing it away.
However, if you don't have a vacuum sealer, it is better to wrap the brisket in foil, before you are inserting it into a freezer-safe bag.
Reheating It in the Oven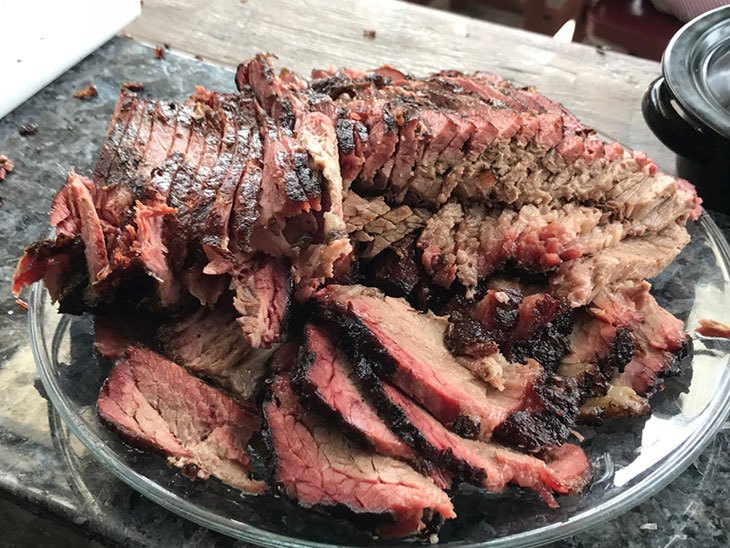 Using your oven to reheat your frozen brisket is the best and easiest way. One thing that you should remember is that you just don't put the brisket in the oven and wait for it to be reheated. There are a couple of things that you need to know.
Preheat the oven to 325°F to defrost it, if you didn't defrost it beforehand.
After it has been defrosted, you should cover the brisket in two layers of foil. Make sure that there aren't any holes in the foil.
Your brisket should be ready in an hour. Depending on the size of the leftovers.
A great tip is to add some moisture to the brisket before you start reheating it. This is to ensure that there is enough moisture to keep the meat tender and juicy.
Reheating the Brisket in the Microwave
Even if a microwave isn't the ideal way to reheat your leftover brisket, there is a method that you can use that will ensure that you are keeping as much moisture in the meat as possible.
This is a method that you should only consider if you don't have other methods for reheating your brisket.
You need to set the power to only 20%. This is the only way that you can ensure that the brisket isn't drying out.
You should only heat the brisket with 30-second intervals.
Keep on checking the heat every 30 seconds. If you are reheating it too long, it will dry out and really become unedible.
Reheating It Correctly in Your Smoker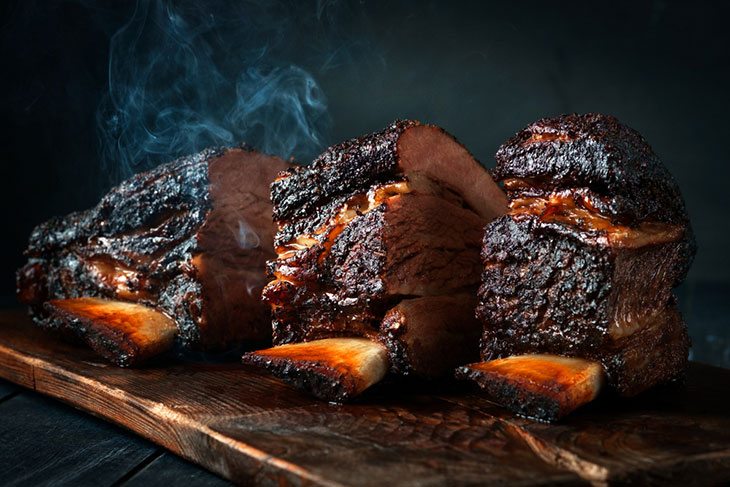 Yes, you can reheat your leftover brisket in your smoker. You should just make sure that it is completely defrosted and that you know the correct method for defrosting.
Your smoker should be at a temperature of about 225°F
You should use the 2-Zone cooking setup for reheating on your smoker if you have this setting
The foil wrapped brisket should be placed in the smoker until the temperature of 155°F has been reached. Unwrap the brisket and smoke it for 5 to 10 minutes until the required heat has been reached.
Conclusion. Heating It Correctly to Keep the Most Moisture
It is really important that you are heating your leftover brisket correctly. Otherwise, you are going to end up with meat that is not moist and that won't be tasty anymore. Take your time, defrosting it correctly and consider these reheating tips.
Brisket is really delicious, and it can be reheated if you have leftovers. However, you need to make sure that you are reheating it correctly.
Leftover brisket can be just as delicious. Especially, if you are using your smoker, and give the meat a smoking flavor while you are reheating it. This gives the leftover brisket a completely new taste, and you can enjoy it again.
Making the most out of your brisket leftovers.